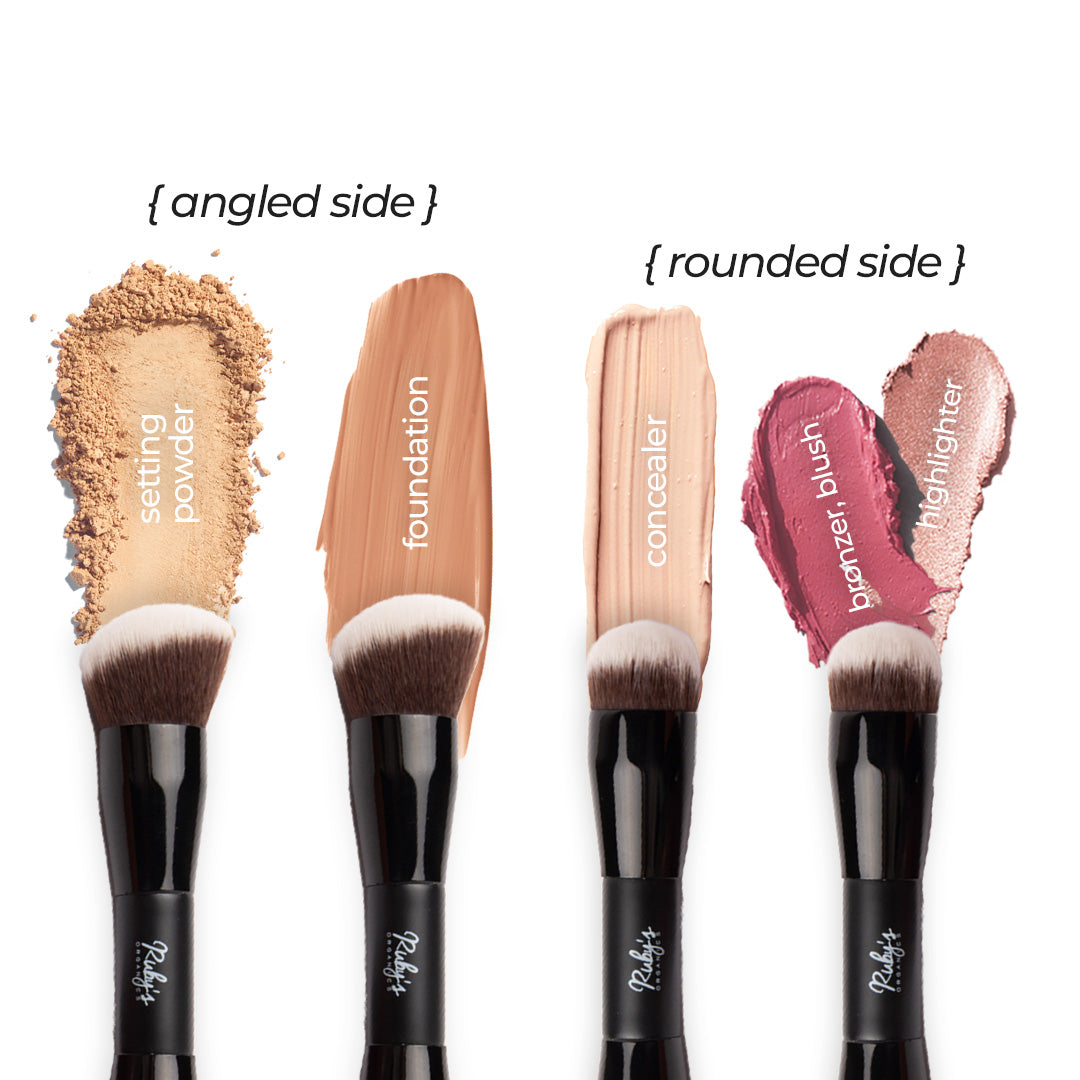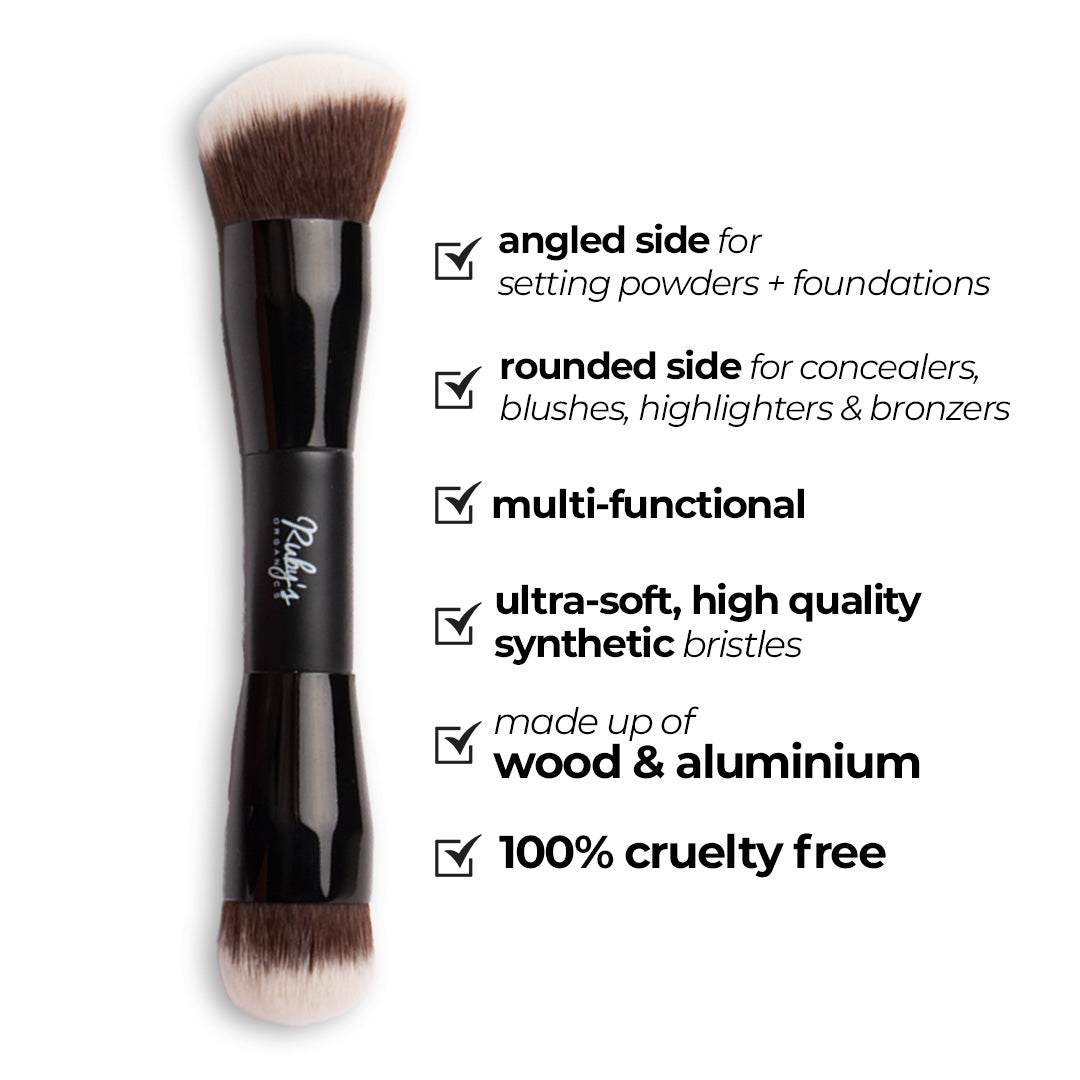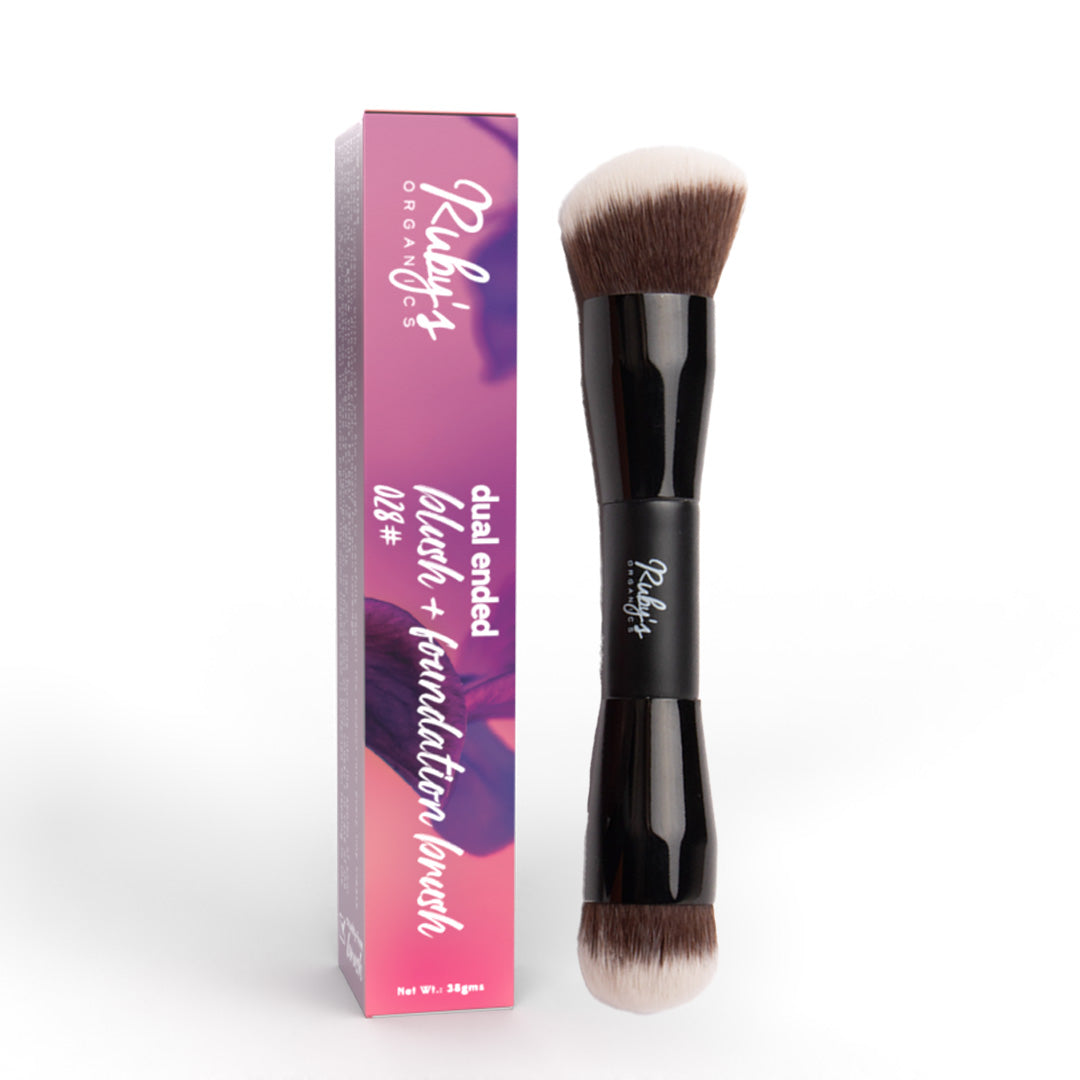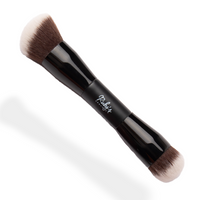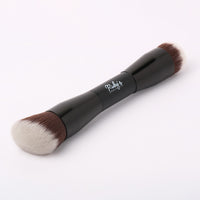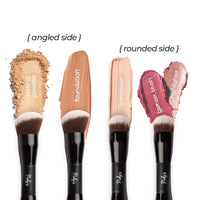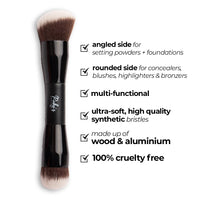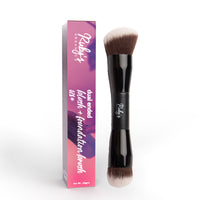 Accessories
Dual Ended Brush
A blush and angled foundation brush
As purposeful as it is ingenious, this dual-function brush allows you to use natural makeup to achieve a flawless base as well as a seamlessly blended blush/highlighter. This product is ideally suited to complement and aid in the application of our crème blushes, highlighters, bronzer, and foundations. 

✓ 100% Vegan ✓ Multi-tasking ✓ Made with Synthetic Hair Bristles 
🚚 Order dispatch in 24-48 hours!
* Suitable for all skin types
Made up of synthetic hair, wood & aluminium
100% Vegan
100% Cruelty-free, not tested on animals
100% Plastic-free
Better because
Disperses product equally for even coverage
Soft yet firm enough to carefully deposit the product into every tiny crease and crevice of the skin
How it works
The angled foundation brush is soft yet firm enough to carefully deposit the product into every tiny crease and crevice of the skin, dispersing the product equally for even coverage. Use the brush in gentle circular motions for best results.
The Blush side of the brush is designed specially to gently tap our crème formula into the apples of your cheeks, along your cheekbones (in case of a highlighter), or in the hollows of your cheeks ( in case of the bronzer) to blend and even out the desired pigment. The dome-shaped head is perfected for tapping in the product. Avoid dragging.
Care instructions
Wash and rinse with mild cleanser or shampoo at least once in a week and dry thoroughly before next use.
Better than ANY OTHER brush I've owned!
The smoothest and BEST foundation and brush I've ever bought! This beats my Charlotte Tilbury and Huda brushes too. Every product just blends like a dream. It's so soft and comfortable to hold. Definitely one of my favourites!
Great brush.
This is a nifty brush that blends foundation well and is also perfect at the other end for applying compact or powder. Best of all, it's magically easy to clean. Highly recommended.
Great brush
The best brush I have used. Gives a good finish for foundation. And the same brush works for setting powder and blush as well
Great brush! Soft bristle and very easy to blend the product with it.
Too good
Amazing makeup brush with very soft bristles
Multi purpose brush
Smaller brush is for application of blush and contour/bronzer
Bigger foundation brush is for blending foundation,blush and contour/bronzer.. bristles are densely packed. Handle is luxurious..Truly multi purpose.
Better than Charlotte Tillburys brush
I was honestly surprised by the quality of the brush. In my opinion it can compete with the same kind of brush from Charlotte Tillbury and it's a fraction of the price.
Got this brush in sale… its a good buy
good buy
Got this makeup brush as paert of the blush brush combo. So happy with it...blendsss amazing.
Beauty for Everybody
At Ruby's Organics, we want to encourage a culture that supports and values individuality and self-expression over anything else. We cannot make false promises and claims because truly, the journey to discovering beauty is inward and transcends far beyond the surface. Everybody deserves to feel beautiful and makeup is simply a tool.
Our goal is to bring you clean, uncomplicated, and purposeful products built on innovative
plant-based formulas that do more than just sit on the surface but add nourishment with active skin-care ingredients.